Volar!
Oct 08
4/5 Review of Just Call It (EP) by Susan -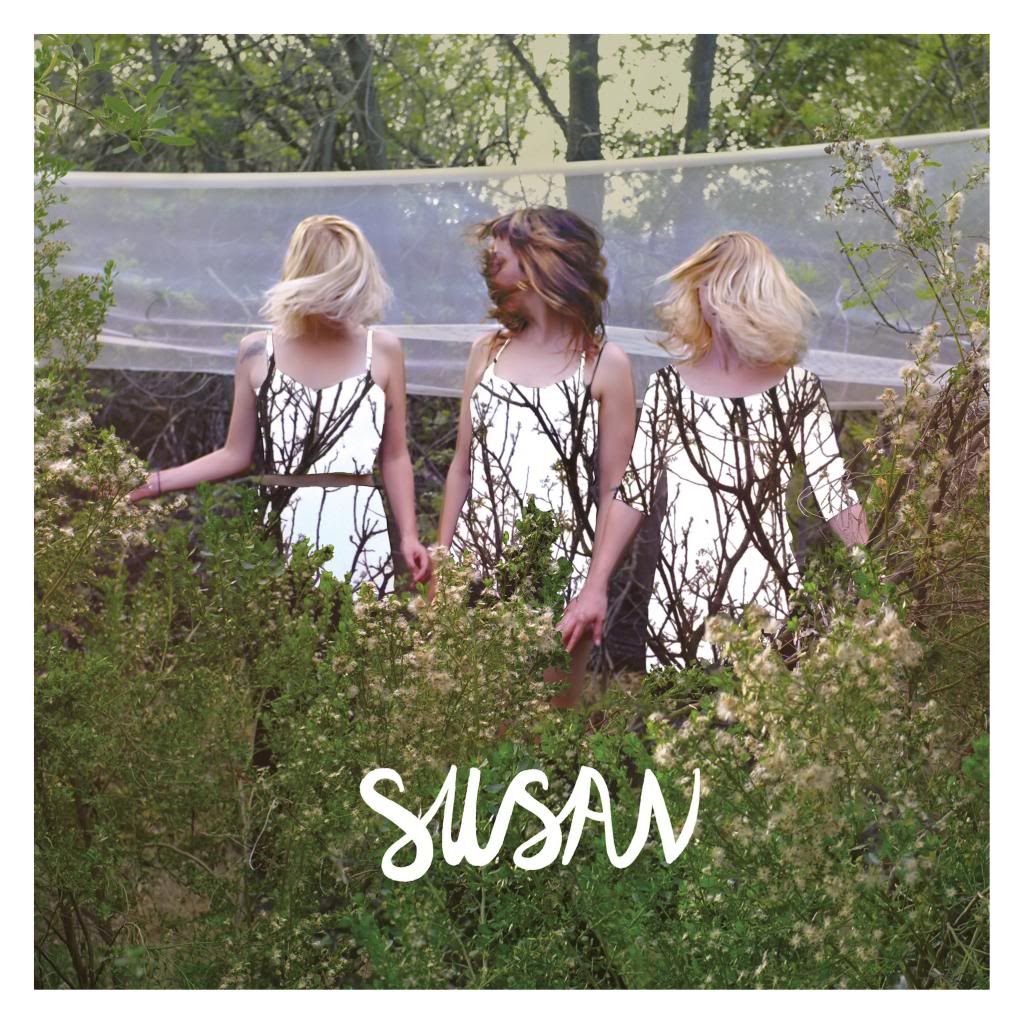 Via Bluesbunny:
Title: Just Call It (EP)
Catalogue Number: Volar Records VOLAR38
Format: Vinyl EP 7"
Release Year: 2014
Hell is for heroes, beer is for drinking, hamsters are for stroking and vinyl is the only true physical format for music. On vinyl, green vinyl no less, and ready to be worshipped are Susan who hail, in all their inverted wholesomeness, from Los Angeles. Where else, after all, could you have an earthquake with your breakfast?
The three songs here are, as you might expect, lo-fi and no stranger to the atmospheric enhancements of reverb but these three ladies are no mere southern California garage rockers in heels. With a mastery of the relentless and the laconic, they romp through "Just Call It" like they were on the way to the mall with an axe for some relationship reconstruction. In a similar vein, "Pancake" takes a dirty guitar riff and makes its very simplicity threatening whilst throwing in the kind of alternately cute and challenging vocals that suggest that innocence has been well and truly lost. "Frenchie" is almost manic to the point that the closing line "…I hope you die alone" becomes more than enough reason to make you look over your shoulder.
To borrow the words of someone more poetic than I, these kittens have claws.
Available from Bandcamp.
Rating: 4 / 5
Website: www.facebook.com/SusanIsABand
Oct 04
Album of the Week: Just Call It EP - Susan -
The first time we heard the sugary, but biting sass of Susan we fell head over heels. What's not to love in an all-female trio totally not afraid to speak their minds or at the very least kick a no-good boo to the curb. This week saw the vinyl release of their debut 7″, Just Call It out now through Volar Records on limited colored and black vinyl, ahead of a planned Burger Records cassette release.
We've already heard the incredibly sunny kiss off anthem "Just Call It" and fellow EP singles "Frenchie" and "Pancake" pack more of that fuzzed-out punch. With a nearly 9 minute running time it's a quick and succinct rundown into the world of Susan, but this short batch of power pop leaves a lasting impression. Trying forgetting an EP with a coyly called out chorus of, "Fuck you, I hate you, I don't need you, I hope you die, I hope you die, I hope you die alone."
The neo-noir boxing drama that finally reinstated John Huston on the road of financial success after a series of box office disappointments, Fat City is a wonderful piece of filmmaking that remains one of our dearest sports films of all time. Leonard Gardner adeptly adapted his own novel of the same name and, with the help of marvelous Stacy Keach, Oscar-nominated Susan Tyrell and very young Jeff Bridges, Houston created an instant hit and future classic. In the words of Roger Ebert, "Huston treats the story with a level, unsentimental honesty and makes it into one of his best films." Ladies and gentlemen, we're very happy to present you the extremely rare PDF scan of Gardner's inspiring screenplay. Enjoy!

Huston treats the story with a level, unsentimental honesty and makes it into one of his best films.
One of my all-time favorites, can't recommend it enough…
Susan – Just Call It | Going Solo -
Susan – Just Call It
Susan are a new LA-based all- female trio and they have just released their first EP. Just Call It, the first single, underlines the will of get to the "pop side "of the noise-pop spectrum. Sure, they're still noisy and garage as much as Dum Dum Girls, but this song showcases their ability to fuse the more threatening aspects of new wave and post-punk with the teenage heartache of a girl-group. You can listen to the entire EP heading over here and check the cool video of Just Call It below, and order limited green and gold copies here.
Oct 03
Susan – Just Call It | Going Solo
Aug 22
Aug 04
Interview: Volar Records Takes Flight (Feb 2012 interview)
Back in the early 90s, Slim Moon started a small indie record label out of his home in Olympia, Washington to put out records by local bands because nobody else was doing it. That label, Kill Rock Stars, remains to this day a model for upstart indies everywhere. One would think after 20 years, in the age of the Internet, creating a label in the mold of KRS would be easier than ever. After all, prospective owners can now contact artists, promote new releases, and send mp3s all over the world at the click of a button. But, for Volar Records' Craig Oliver, it's been a bumpy road to indie labeldom.

Like Kill Rock Stars, San Diego-based Volar was started in 2009 as a way for Craig to release a 7-inch by his own band. He took the name from a Spanish word which means both "to fly" and "to blow up", and made the logo a scowling cartoon picture of his cat, Anton LaVey. He had some label experience having worked for Cargo Music, the small San Diego label most famous for putting out Blink-182's first record. But Craig's heart was always in the underground.
Jul 14
First Listen: White Fence, 'For The Recently Found Innocent' -
Performing as White Fence, Tim Presley steers toward the gentle pomp of late-'60s psychedelic pop, rock and folk. Along the way, he writes to the canon from which he performs and bends it to his will.
Friend-of-the-label Tim Presley has a great new White Fence LP up on NPR. Tim contributed cover art for The Audacity's "Ears and Eyes" 7", Pope Anything's 'Witch Tits' 7", and our Under the Covers tribute to The Nerves on which he also covered "Gimmie Some Time" after Jay Reatard was supposed to record it for us right before his untimely passing. All are available at our webstore.
Jul 09
Top Ten Indie Labels: Brian Jenkins (Black Jet Radio) -
This month we asked Riot House owner and Black Jet Radio guitarist Brian Jenkins for his top ten favorite independent record labels. Yeah, we get it, the "indie" title has grown to be a bit ambiguous but here it is:

10. Three One G – There's a couple of San Diego labels that are going to pop…
Jul 07